Home  /  Products  /  Overhead Conveyors
All-Flex Series: Accessories
HINGED CHAIN INSTALLATION & INSPECTION GATE:
The track section with hinged panel is designed for chain installation, removal, inspection and maintenance.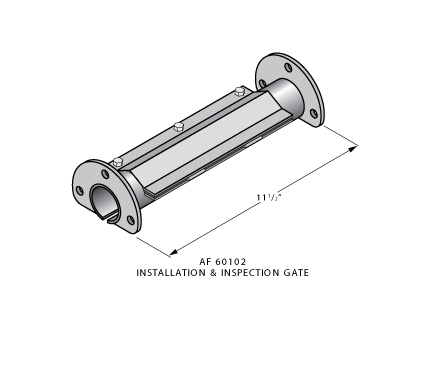 TRACK EXPANSION JOINTS: (BUILDING AND OVENS)
Formed steel sliding expansion joints are available for oven conveyors and are usually required where temperatures exceed 200º F. Rate of expansion of track in ovens: .0078″ per foot of length per 100º F of temperature rise.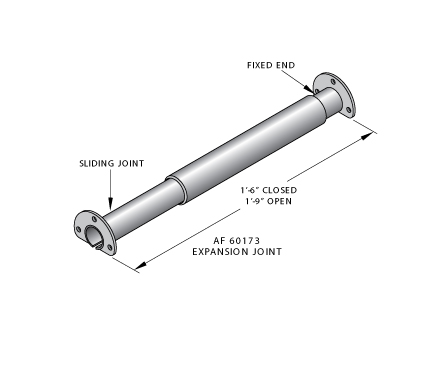 TRACK CLEANER:
For conveyors having to operate in severe conditions a cylindrical coil brush cleaner is availble to become a temporary part of the conveyor chain complete with the required clean out container.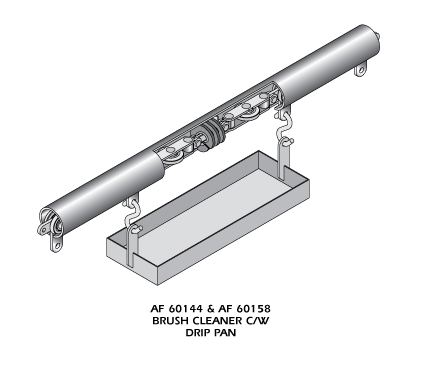 BRUSH TYPE CHAIN LUBRICATOR:
There are two models available, auto shut-off solenoid or manual on-off control. Due to the small quantities of oil required for enclosed track conveyors, timer controlled units are recommended for precise application of oil. Manually controlled lubricators are available but not recommended unless continuous lubrication is desired. Pre-mounted to standard track section.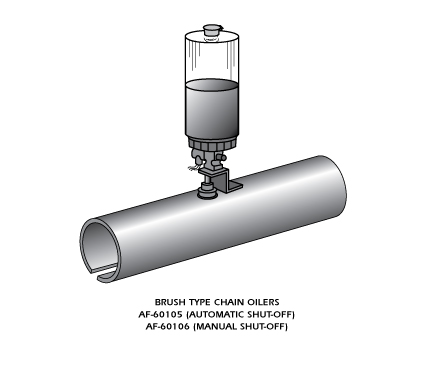 AUTOMATIC LUBRICATOR:
The automatic lubricator is designed to deliver precise oil to the chain pins and wheels. It is pneumatically operated and electrically controlled for complete automatic operation. The unit comes completely equipped with an oil reservoir, air line regulator and guage and PLC controller which is used to program lubrication cycles. Pre-mounted to standard track section.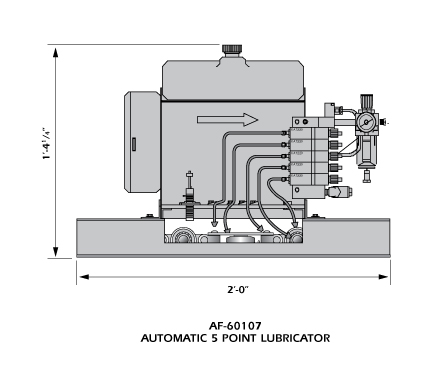 LOAD BAR: (Capacity 100 lbs)
To increase the capacity of the trolleys, load bars are recommended, suspended from 2 special attachments.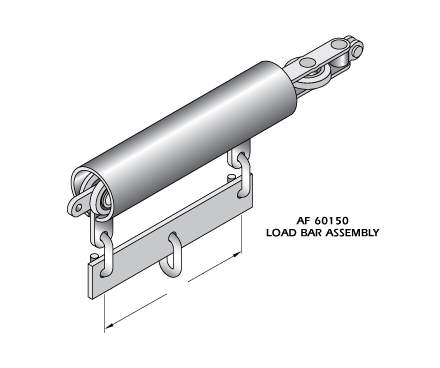 2-WHEEL FREE TROLLEY:
Two ball bearing load wheels with hardened races. Hand push only.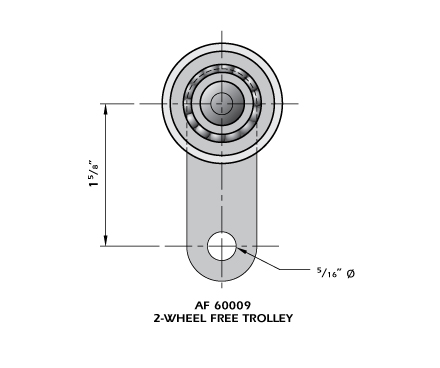 4-WHEEL FREE TROLLEY:
Four ball bearing load wheels with hardened races. Hand push only.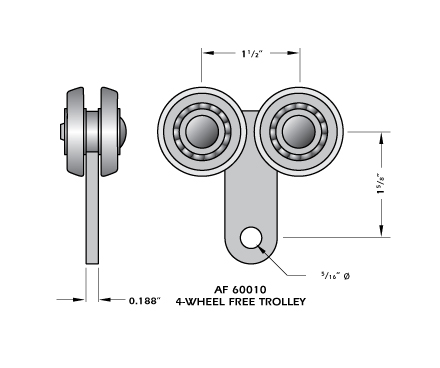 AF 60146 TROLLEY CLEVIS:
Formed clevis bolted to the chain pendant, provides an easy method to attach a single pendant carrier.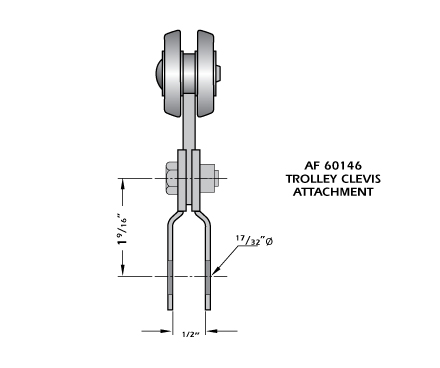 90° INDEXER c/w 4 POINT STAR:
Cast two piece cam construction provides 90° indexing. The addition of the 4 point star allows for automatic indexing.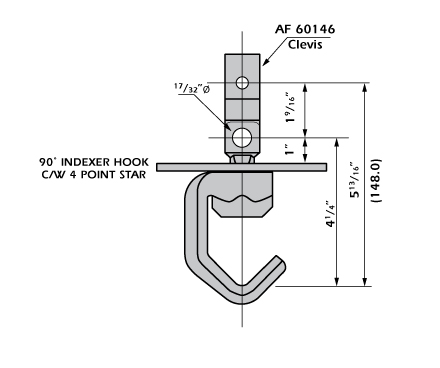 SWIVEL ROTATORS:
Free spinning ball bearing swivel allows the operator to rotate the load only by hand.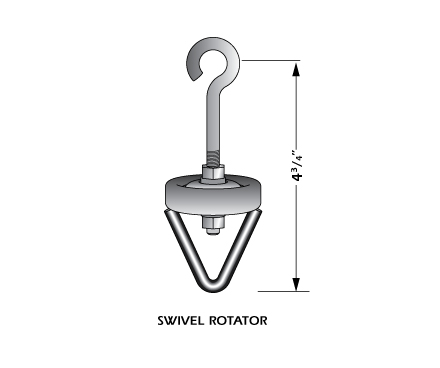 RIGID ROTATOR C/W 6 POINT STAR:
A rigid pendant and 6 point star provides positive rotation suitable for powered operation.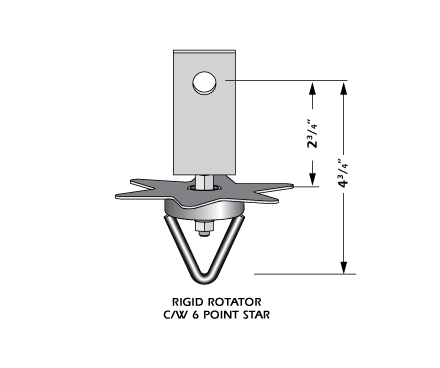 AF 60169 TRACK HANGER
C/W STEEL ANGLE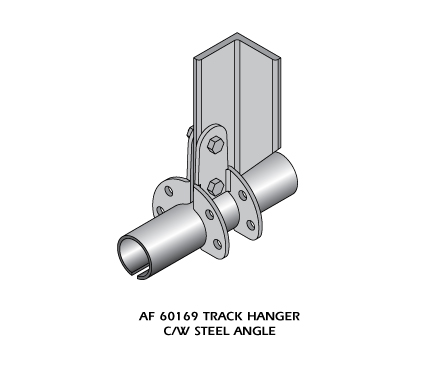 AF 60169 TRACK HANGER C/W
AF 60171 TUBE CONNECTOR: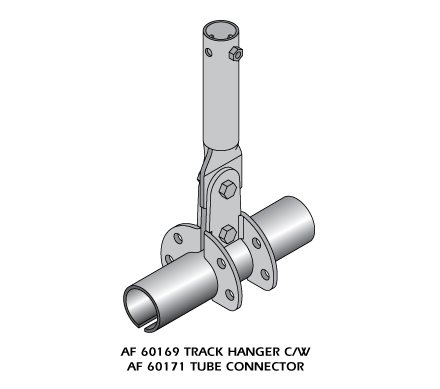 AF 60170 STRAIGHT TRACK
BOLTED END COUPLING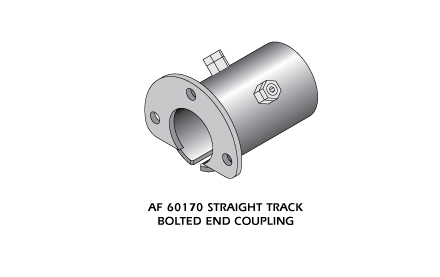 AF 60160 LOW PROFILE
TRACK HANGER CLAMP
AF 60171 TUBE HANGER
CONNECTION SLEEVE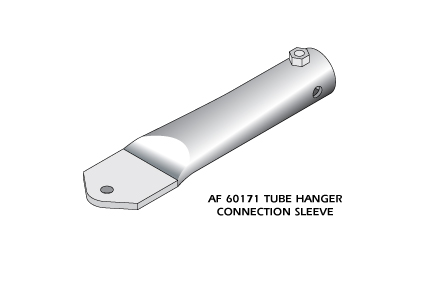 ALL-FLEX STANDARD CONTROLLERS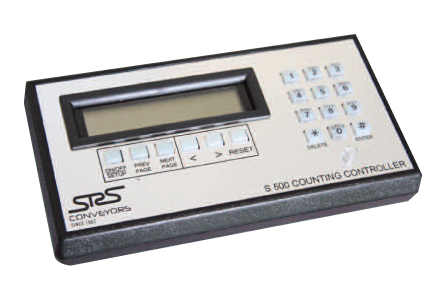 S-100 Storage & Retrieval Controller
Significantly minimize your retrieval time by entering multiple desired locations on the S-100 Controller which in turn will prioritize the queue and take the shortest path. The S-100 has all the advanced features that you require and can also be fully integrated with software systems.
S-200 Sorting Controller
The All-Flex S-200 Sorting Controller has the capacity to sort 10,000 garments/products per hour and sorting capabilities of unlimited drops. The method of identifying includes bar code, RF chips, dedicated or visual creating minimal to no human garment/product interventions in the sorting process. Each garment/product is then monitored until it reaches it final designated drop line.
S-300/400 Power and Free Controller
SRS All-Flex S-300/400 Power and Free Controller allow individual trolleys to divert and accumulate on free rail systems. The S-400 will reload the selected rail along with the number of trolleys for that particular line back onto the All-Flex power conveyor. With SRS traffic logic controllers S300/400 coupled with a gravity/free rail system allows you to maximize your overhead storage, reduce your footprint, minimize power requirement and conveyor costs.
S-500 Production Counting Controller
No longer do you have to calculate the totals at the end of the day to see if your operator is working at peak efficiency. With the interactive menus you can see if your operator is accomplishing your targets. The S-500 is fully expandable and each station on the conveyor line counts as if it was the only unit there. The operator is provided with real time data so they can gauge their own performance. A data lock is provided so that critical information can be controlled.
S-600 Assembly/Kitting Controller
The S-600 Auto Assembly/Kitting Controller automatically sorts for the purpose of picking or assembling product orders in an effortless manner. Using only one operator, products can be assembled at a rate of 500 per hour by having the conveyor move via the S-600 instead of the operator. Designed with a micro-processor the S-600 Auto Assembly/Kitting Controller integrates with most inventory/POS software systems and makes operating and installation a breeze.
Product Gallery
SRS Conveyors manufacturer of the All-Flex Enclosed Track Conveyors are designed and built on the principles of increasing productivity, reliability, flexibility and simple installations.
Our team of engineers can find the
solutions that is right for you.